Overview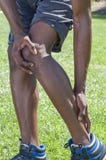 Tendinitis is inflammation of a tendon. Thus, Achilles tendinitis is an inflammation of the Achilles tendon. The inflammation may be localized to the end of the tendon closest to the heel or may spread upward to affect even the muscles of the calf. Swelling often occurs and pain is felt upon contraction of the calf muscles. In severe cases, pain may be felt even at rest. Generally, Achilles tendinitis begins as a dull pain at the back of the lower leg just above the heel when pushing off the ground with the foot. Unless the activity is stopped, the condition rapidly gets worse until any activity requiring a push-off from the ground by the foot becomes quite painful and nearly impossible. If it is left untreated, it can develop into one of two more serious conditions - Achilles tendinosis and Insertional Calcific Tendinitis.
Causes
Unusual use or overuse of the lower leg muscles and Achilles tendon is usually the cause of Achilles tendinitis. Repetitive jumping, kicking, and sprinting can lead to Achilles tendinitis in both recreational and competitive athletes. Runners, dancers, and athletes over age 65 are especially at risk. Sudden increases in training or competition can also inflame your Achilles tendon. For example, adding hills, stair-climbing, or sprinting to your running workout puts extra stress on your Achilles tendon. Improper technique during training can also strain the tendon. Intense running or jumping without stretching and strengthening your lower leg muscles can put you at risk regardless of your age or fitness level. Running on tight, exhausted, or fatigued calf muscles can put added stress on your Achilles tendon, as your tendon may not be ready to quickly start a workout after a period of inactivity. Direct blows or other injuries to the ankle, foot, or lower leg may pull your Achilles tendon too far and stretch the tissue. A hard contraction of the calf muscles, such as can happen when you push for the final sprint in a race, can strain the tendon. People whose feet roll inward, a condition called overpronation, are particularly at risk. Sometimes, shoes with too much heel cushioning put extra strain on the Achilles tendon.
Symptoms
People with Achilles tendinitis may experience pain during and after exercising. Running and jumping activities become painful and difficult. Symptoms include stiffness and pain in the back of the ankle when pushing off the ball of the foot. For patients with chronic tendinitis (longer than six weeks), x-rays may reveal calcification (hardening of the tissue) in the tendon. Chronic tendinitis can result in a breakdown of the tendon, or tendinosis, which weakens the tendon and may cause a rupture.
Diagnosis
Laboratory studies usually are not necessary in evaluating and diagnosing an Achilles tendon rupture or injury, although evaluation may help to rule out some of the other possibilities in the differential diagnosis. Imaging studies. Plain radiography: Radiographs are more useful for ruling out other injuries than for ruling in Achilles tendon ruptures. Ultrasonography: Ultrasonography of the leg and thigh can help to evaluate the possibility of deep venous thrombosis and also can be used to rule out a Baker cyst; in experienced hands, ultrasonography can identify a ruptured Achilles tendon or the signs of tendinosis. Magnetic resonance imaging (MRI): MRI can facilitate definitive diagnosis of a disrupted tendon and can be used to distinguish between paratenonitis, tendinosis, and bursitis.
Nonsurgical Treatment
In addition to stretching, using a foam roller and getting regular massage to keep the joint mobile can help prevent any problems from starting. If you start to feel inflammation in your tendon or have Achilles tendinitis once, it isn?t necessarily the end of the world. Let it rest and recover, which can sometimes take as long as four to six weeks if you waited until the pain was acute. The real problem is if Achilles tendinitis becomes an ongoing injury. If it keeps recurring, then it?s time for the perpetually injured to examine what they?re doing to cause the problem.
Surgical Treatment
Following the MRI or ultrasound scan of the Achilles tendon the extent of the degenerative change would have been defined. The two main types of operation for Achilles tendinosis are either a stripping of the outer sheath (paratenon) and longitudinal incisions into the tendon (known as a debridement) or a major excision of large portions of the tendon, the defects thus created then being reconstructed using either allograft (donor tendon, such as Wright medical graft jacket) or more commonly using a flexor hallucis longus tendon transfer. In cases of Achilles tendonosis with more minor degrees of degenerative change the areas can be stimulated to repair itself by incising the tendon, in the line of the fibres, which stimulates an ingrowth of blood vessels and results in the healing response. With severe Achilles tendonosis, occasionally a large area of painful tendon needs to be excised which then produces a defect which requires filling. This is best done by transferring the flexor hallucis longus muscle belly and tendon, which lies adjacent to the Achilles tendon. This results in a composite/double tendon after the operation, with little deficit from the transferred tendon.
Prevention
Wear shoes that fit correctly and support your feet: Replace your running or exercise shoes before the padding or shock absorption wears out. Shock absorption greatly decreases as the treads on the bottoms or sides of your shoes begin to wear down. You may need running shoes that give your foot more heel or arch support. You may need shoe inserts to keep your foot from rolling inward. Stretch before you exercise: Always warm up your muscles and stretch gently before you exercise. Do cool down exercises when you are finished. This will loosen your muscles and decrease stress on your Achilles tendon. Exercise the right way: If your tendinitis is caused by the way that you exercise, ask a trainer, coach, or your caregiver for help. They can teach you ways to train or exercise to help prevent Achilles tendinitis. Do not run or exercise on uneven or hard surfaces. Instead, run on softer surfaces such as treadmills, rubber tracks, grass, or evenly packed dirt tracks.